Set your data to work
Your data – back on track
HOW CAN DATA HELP YOUR ORGANISATION?
What do you want to achieve? What data do you have and how do you use it? These are the most important questions that we'll ask you.
Once you've answered these, we can make sure that your data is being used intelligently, so that you can achieve your goals and be even better at what you do.
INSIGHT INTO YOUR DATA
We assess which data you already have and which data you still need to acquire in order to achieve your goals. Moreover, we find out what you need in order to acquire this data as quickly and easily as possible.
Data represents a means of quickly achieving your goals. It is a valuable tool that is there to support you. The question is, why wouldn't you make use of it?
EACH ORGANISATION IS UNIQUE
We don't use generalised questionnaires. Every organisation is unique – including yours. That's why we only ask questions that are relevant to your business. With the answers you provide, we get to work using a goal-oriented and pragmatic approach. This means you make great progress and benefit as much as possible in a short period of time.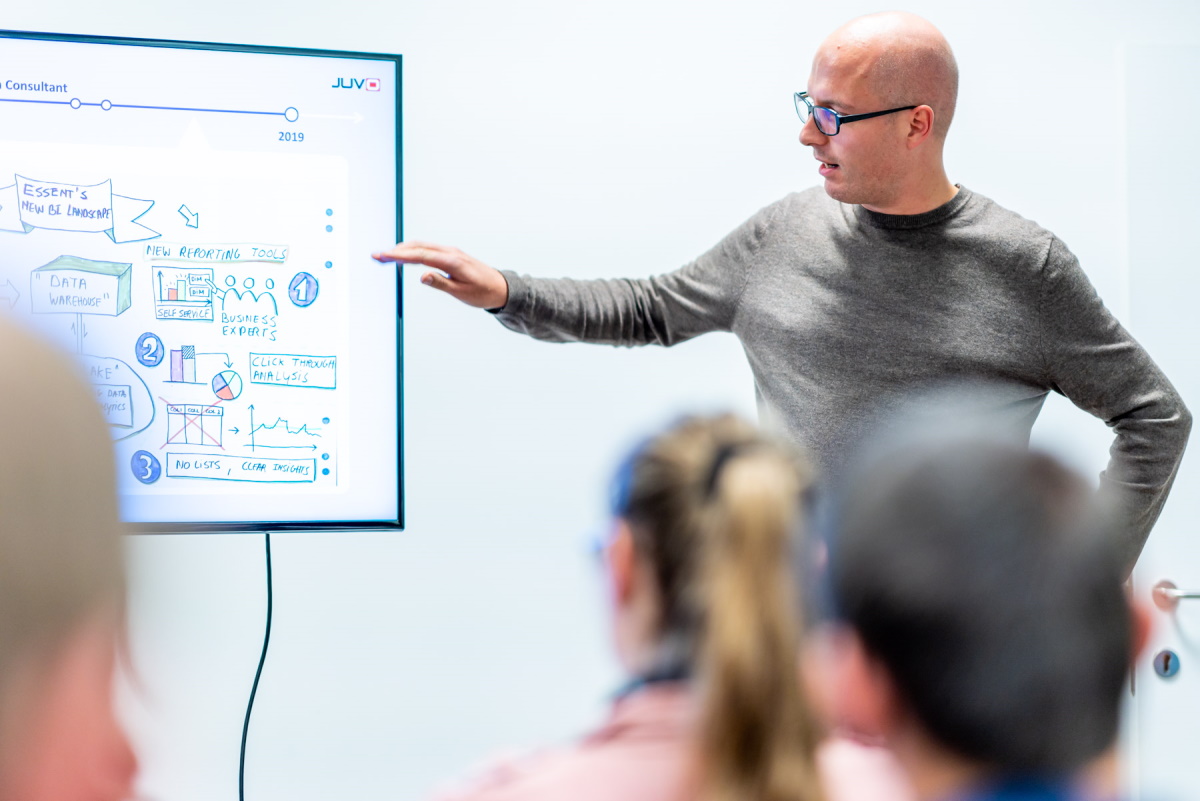 Sounding board
During a sounding board session, we listen to what you have to say. We ask about your current situation and the challenge(s) you are facing. Sometimes you can be so focussed on certain issues that you can lose sight of the big picture. And that's when you get stuck.
As your external partner, JUVO takes care of the big picture. We help you take a fresh look at your data. So that you can put it to use differently, get more out of it and achieve your goals.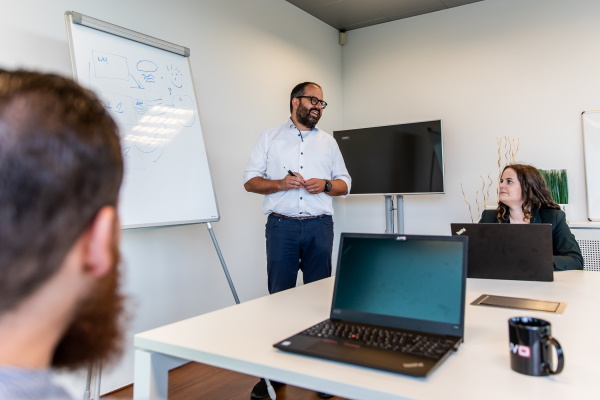 Workshop
Do you want to know more about data and how to reap its benefits? We're happy to walk you through in a workshop or ideas session. This is suitable for both specific departments and all layers of your organisation.
You learn about our best practices and we share relevant expertise with you. After a workshop session, you'll look at (your) data differently and you'll be brimming with inspiration.
Data strategy
Are you getting the most out of your data? What is your data strategy and is it up to date? Technology is changing rapidly. It's crucial to regularly review your data strategy and adjust it when necessary.
We're happy to help by drawing up a strategy or offering you a second opinion on your current situation. The right data strategy gives you a competitive advantage.
JUVO works with Dexis Belgium
JUVO analyses the business process and designs a Sales Force Automation (SFA) tool for Dexis Belgium.
The market leader in MRO consumables distribution offers a wide range of over 400,000 products and solutions. The company receives thousands of phone calls, emails and even faxes every day. Imes Belgium wants to gain insight into the business process, improve customer service and better support its employees.
Dexis Belgium wants to update their business intelligence tool to centralise information and drive activities. JUVO analyses the business process and designs an SFA.
What's the value of your data?
There aren't enough superlatives to describe the value of data. Data has so much to offer. You can base your entire business model or future plans on data. Are you tracking the right data and putting it to use in an intelligent way? If you are, then you have a huge advantage over your competition.
The benefits of data
Improved insights

Informed decisions

Enhanced efficiency